Buy, sell or hold: wine country real estate trends - related article: Health Label Ruling Modified
Kendall-Jackson To Sell 900 Acres; Mondavi Puts 1,500 Acres And Two Wineries On the Market; Coppola Pays A Record $350,000 Per Acre For Napa Vineyard. If you found these recent real estate headlines confusing, you're not alone. Is this a time for skyrocketing sales or scaling back and selling-off?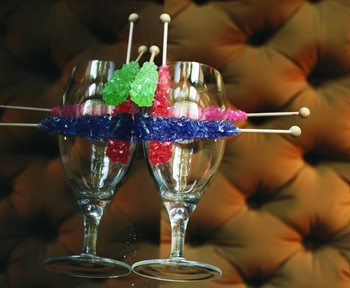 With the U.S. economy and the wine industry in twin slumps, many have predicted doom and gloom for buyers and sellers alike. If you're selling, you'll be lucky to break even; if you're buying, you'll be stuck with a winery or vineyard full of grapes that nobody wants. But according to wine country real estate experts, there will always be Coppolas willing to pay top prices for premium land, and buyers can find both bargains and customers if they ride out the current wave.
But before we get to that, let's review some recent history. Just 10 years ago, in the early '90s, the economic situation was strikingly similar: Gulf War, recession, unemployment, pestilence, raining frogs, etc. Many feared it was The End of The World As We Knew It, but a few years later the tide turned again. The economy improved and the demand for wine increased, making vineyard and winery properties more valuable (much to the glee of the folks who bought during the gloom and doom period). With all that success going around, everyone wanted a piece of the action. People started building and planting like crazy, right on through the dot-corn boom of the late '90s, and land values rose to an unprecedented level. Then came the bust: the demise of the dot-corns, 9/11, recession, War in Iraq II, and to top it off, a massive oversupply of grapes. This brings us to the current situation: land values and grape prices have softened, and we find ourselves at the bottom of another boom and bust cycle.
The good news is that the only way to go at this stage is up. According to Bev Buswell of Frank Howard Allen Realtors, it's all a matter of waiting for supply to get in line with demand. "Sellers feel their planted land is worth more than buyers do right now," she says. "They can't get the prices they could in 2000 anymore. It might be worth the extra money to hang on and wait until the market adjusts. Those who can't wait are having to sell for less than they wanted." Tony Correia, owner of Correia-Xavier, Inc., a company that specializes in the appraisal of agricultural real estate, says premium land will continue to rise in value, despite the economy. As Correia noted in a presentation at the 2003 Central Coast Wine Insights Conference in March, "Real estate markets continue at a healthy pace, especially for coastal areas, with some softness in the upper tiers. Land and vineyards remain a scarce and desirable commodity."
Katie Somple, founder of WineryX Real Estate in St. Helena, Calif., shares Correia's optimistic outlook. "I'd say winery and vineyard prices are more conservative today than, say, 1999-2000 prices," Somple says. "They've been stable since a slight leveling off in 2001. Winery and vineyard listings and buyer interest are increasing... there is a perceived oversupply of wineries but that is not the case. I'm personally seeing more buyers than sellers."
According to Somple, this is "absolutely" a good time to buy a winery, "particularly the smaller boutique wineries that I believe will have a resurgence of popularity when the Two-Buck Chuck trend wears off. As various counties clamp down on winery permits and vineyard development, and as nature preserving lawsuits threaten and prevail, the quaint, boutique wineries become more and more rare. The lifestyle demand will increase, the demand for wine with a personality and story behind it will increase, but the number of wineries will not. I've been urging my clients to give a serious look at any winery in Napa or Sonoma priced correctly at under $5 million, because they are a dying price category.
Somple also points out that great real estate values can be found in up-and-coming regions outside of Napa and Sonoma, such as Santa Barbara, the Alexander Valley corridor, Santa Ynez/Monterey and the Sierra Foothills. "Property prices there can't even be compared to Napa or Sonoma."
Smart sellers can also do well in the current market, Somple says, if they do their homework. "There are a lot of formula buyers in the marker right now looking to scoop up some good deals," she says. "A seller really needs to understand the valuation formulas that buyers are using and they need to get a professional appraisal and know what their bottom line is and then decide if they want to sell. Certainly, no one is overpaying. One thing I caution my seller clients on is expecting a buyer to pay twice for a winery's potential-once in a fair market price and again in the cash flow investment to make the improvements to take the winery to the next level.
"On the other hand, it gets frustrating trying to communicate to buyers that there is legitimate value in a winery's intangible assets such as a generous production permit in a region where production is severely limited, or a public tasting permit where they're no longer being offered to new wineries or the value of a winery's turn-key presence. The experience of selling and being low-balled by buyers who will not consider the intangible values is exhausting for winery sellers. As far as sellers' motivation goes, a lot of what I'm hearing now is lenders knocking on the doors of wineries that overextended, misread the market, or whatever. A good number of wineries are just looking for a relief investment partner but once that happens, it's unlikely that life will ever go back to the entrepreneurial way it was."
As for high-profile sellers like K-J and Mondavi, Somple says that people needn't interpret their actions as cause for alarm. "First of all, what they're selling is mostly ancillary real estate such as undeveloped land and facilities they don't really need given the current supply-demand situation. Second, that's like asking if a mom-and-pop pizza joint should be concerned when Pizza Hut starts laying off. The answer (to whether or not people should be concerned) is yes and no. Yes, because a winery owner needs to know the root reasons for the cutbacks...the answer is also no, because the business model of small and medium-size wineries is entirely different than the complicated finances of the big boys. The great thing about small to medium-size wineries is that they are agile and able to respond more quickly to paradigm shifts. It's kind of like following a big ship on a churning sea and using its wake to steer clear of turbulence."
Over the next five to 10 years, Somple predicts a shift in the type of people who are buying winery and vineyard properties, rather than a change in how much they're paying. "The industry has become so sophisticated that it requires a level of business expertise that many family owned operations cannot sustain," she says. "Like most other U.S. industries, the trend of the little fish getting eaten up by the big fish is happening fast and furious. Some of my winery clients call them 'the bean counter buyers,' but guess what? They have to make the numbers work to a point of profitability, or else. That's the reality of the current winery buying pool right now. What may happen is a backlash against corporate wine that could suffer in quality because of the profit-driven business model behind it. As far as vineyards go, the unknown varietals are gaining acreage and finding their micro-climates all over California. Hopefully in the future there will be less over-planting of the variety du jour and vineyard owners will dedicate their efforts to planting new varietals that are perfectly suited for their terroir."
Outside of California, the story is a little different. According to Mel Russo, broker/owner of Senecayuga Properties, a Seneca Falls, N.Y. real estate company that focuses on properties in the Finger Lakes region, land and winery values have been increasing steadily since the early '90s.
"A lot of land is being sought after and purchased in the wine country area," Russo says. "Most of this land is better off being used for grapes than grains, because grapes are less abusive of the soil (in terms of erosion). Also, people would rather purchase existing wineries for cash flow reasons."