Mass merchants press for wine every day: consumers respond to bargains on every level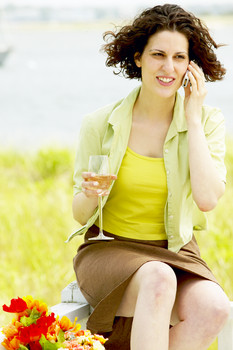 Mass-market retailers continue to popularize wine in the United States even if U.S. imbibers still don't consume wine in the everyday way many Europeans do. Yet, from dollar stores to warehouse clubs, they are making wine more affordable, convenient and comfortable to buy.
ACNielsen figures for food, drug and mass channels, excluding Wal-Mart, show wine sales gaining, although units grew at a faster pace--3.1%--than dollars, which grew by 2.7% in the 52 weeks ended on Sept. 6. If those numbers suggest consumers are trading down, note that imported vintages and sake are the growth leaders.
Lately, off priced bottles at 99 Cents Only and Two-Buck Chuck at Trader Joe's have demonstrated that many wine drinkers want bargains even as they demand better product quality. Still, the buyer at one major warehouse club chain said the Two-Buck Chuck phenomenon "had been done to death." The buyer, who asked not to be named, pointed out that the phenomenon had left some unscathed. "We focus on the higher end," the buyer noted.
Warehouse clubs, where laws permit, provide folks who buy for occasions the chance to impress friends and family while still enjoying substantial savings compared to retail alternatives. Costco, for example, carries wine-exclusive and wine-focused gift packs. But with the bulk of its selection ranging in price from $10 to $20 a bottle, Costco helped pioneer the push for more regular wine consumption among the affluent consumers who visit it either ready to treasure hunt or buy by the case.

Target took aim recently between the buck boys and the club crowd in its efforts to make the casual glass of wine a more common habit. As fall flew across the United States, the Wine Cube rolled. A throwback to the boxed wines popular a decade or more ago, The Wine Cube nonetheless features several popular--and up-to-trend--varieties including Syrah/Shiraz, Pinot Grigio, Chardonnay and Merlot in cardboard-enclosed, three-liter, spout-inclusive plastic bags.
Target's Wine Cube program is part of a broader effort to stamp the retailer's wine department with the kind of virtuoso seal that has been applied in apparel and housewares. In this case, the stamp is embossed with the name Andrea Immer, one of only 10 women in the world--nine in the United States--to hold the title of master sommelier. She has been introduced into the educational signage in Target's wine aisles, and end cap displays of the newly introduced Wine Cubes include a brochure quoting Immer as saying: "I worked with Target to select these great quality wines and create the exclusive Wine Cube." Providing a great everyday experience is implied.