Rare vintage: a proper wine cellar requires more than just rows of racks - Products/State of the Art
Educated wine collectors know that it takes much more than a few racks in a room to safely preserve fine wine so that it appreciates in value. It takes knowledge of how to achieve and maintain the conditions that allow wine to age properly without spoiling. "Designing the room is very important," says Kathleen Valentini, owner of Valentini's Fine Wine Line, a custom designer and installer in Scottsdale, Ariz. "You need to go to someone who specializes in this field."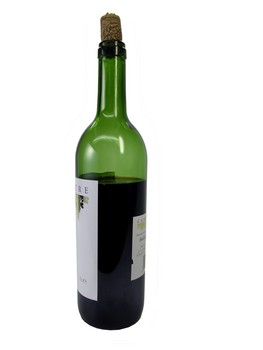 Wine requires specific climatic conditions if it is to age to its full potential. That means an environment with stable, cool temperatures between 55 and 60 degrees, humidity between 55 percent and 75 percent, and minimal vibration. "With wine storage, a steady temperature is more important than the correct temperature," advises Fred Tregaskis, owner of custom wine cellar design firm New England Wine Cellars in West Cornwall, Conn.
Any radical temperature change--from too hot to too cold--can cause wine to spoil. Humidity that's too low can cause a cork to dry out and allow the liquid to evaporate, whereas humidity that is too high can encourage mold growth.
To prevent these destructive conditions from occurring, many custom wine cellar designers start with double vapor barriers, insulation, and green-board and then move to climate control and humidification equipment. "The shell needs to be constructed with a vapor barrier and insulation because it is basically a walk-in cooler when all is said and done," says David Spon, owner of Wine Cellar Concepts in McLean, Va., a custom designer, fabricator, and installer of wine cellars.
Air conditioners and refrigeration systems remove moisture from the air, but climate control systems designed specifically for wine cellars cool the air while maintaining humidity. Some designers prefer split systems, such as the WineMate cooling system from Vinotemp. Split systems cool air, control humidity, and pump excess heat away from the room. Self-contained units are also an option, such as wall-mounted cooling systems from Breezaire and the ceiling-suspended Cellar Mate, designed by Tregaskis.
Home wine cellars are often more than just warehouses storing rows of bottles. Many feature custom-built storage racks and cabinets made of such luxury timber as redwood, mahogany, and walnut. These rooms might have tasting centers as large as the average dining table, chandeliers, and hand-painted wall murals. "Wine rooms are becoming more and more like libraries," says Spon. "It is high-end cabinetry, rather than racks."
The preferred wood for cabinetry and racks is redwood because it is rot-resistant and does not require finishing, eliminating chemical off-gassing that might harm the delicate wine. According to Valentini, wine cellar racking or cabinetry should be able to withstand humidity without warping or molding. She thinks all-heart redwood fits the bill nicely.
Wine cellars not only help preserve valuable wine collections but also add to a home's resale value and desirability in some markets. "My favorite client, who builds new custom homes and also does remodeling, puts a wine cellar in every home," says Valentini, "even if the buyer is not a collector, because it increases the value of the home."
Valentini's Fine Wine Line
Specializing in designing wine cellars and converting existing rooms into wine cellars, the company works with custom builders and remodelers across the country to manage wine cellar projects, provide technical assistance and refrigeration engineering, and complete installation. The maker uses only rot-resistant, all-heart redwood for its racks and cabinetry.