Sunset's western wine awards: a toast to our favorite people, places, and bottles
The West has its jaw-dropping mountains, its breathtaking coastline, and its wine--some of the best in the world. Awesome human talent applied to just the right soils and climates produces the likes of elegant Willamette Valley Pinots, concentrated Napa Valley Cabs, and powerful
Dry Creek Valley Zins.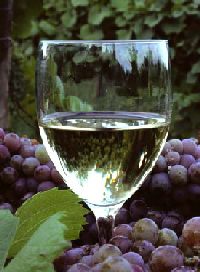 This year Sunset launched an awards program to honor the people who are on the leading edge--growing and making fascinating wine in new places, making those regions great destinations, and informing us about wine with wit and without pretension.
Nominations included almost 100 wines in three price ranges, plus dozens of wine professionals and regions. Here are the winners for 2005.
J. Christopher Croft Vineyard Sauvignon Blanc 2004 (Willamette Valley; $18)
"This is no California Sauvignon Blanc!" exclaimed one judge. She'd nailed it--it's from Oregon Crisp and lively, with pink grapefruit and honeydew, it's an exceptionally fresh and balanced Sauvignon Blanc.
BEST WINE TREND
Pinot Grigio and Pinot Gris Sunset Wine Club members have spoken--they approve of all the Western-made Pinot Grigio and Pinot Gris appearing on restaurant wine lists and shop shelves. Two wines; one grape. In Italy, Pinot Grigio is a light, zingy, no-thought-required sipper. In France (where the grape is from), Pinot Gris is rich and layered with stone fruit, citrus, and minerals. Here it spans the spectrum; winemakers tend to name it for the end they're shooting for. In Oregon, they're pulling out Chardonnay to grow Pinot Gris. Good trade-off.
DESTINATION OF THE YEAR
Walla Walla, Washington In the state's southeast corner, plowshares have been turned into ... whatever it takes to tend grapevines. All around this college town at the base of the Blue Mountains, wheat is giving way to wine as we speak. And downtown, more than a dozen tasting rooms have made Walla Walla just about the best wine destination in the country. Innovative restaurants like Grapefields (above), the Whitehouse-Crawford, and 26[degrees] Brix offer grand food to sip that concentrated Cab and Syrah with.
Miner Family Cabernet Sauvignon 2002 (Oakville, CA; $50)
Dave and Emily Miner stole the main show in our tasting, with this rich and structured Cabernet. Lean, briary red fruit and coffee aromas are balanced with tannins and oak for a great model of a Napa Cab. Their hillside winery on the east side of the valley also gets our vote for an excellent place to visit (www.minerwines.com).
FARTHEST OUT ON THE EDGE
Randall Grahm The encyclopedic winemaking knowledge of Bonny Doon Vineyard's "president for life" is an asset, sure. But Grahm's true genius is in building zany fun into good wine. Bonny Doon bottles have been paired with alien ray guns, and the winery's Death of the Cork parties (Grahm's a proponent of screw caps) were the funerals of the century. Grahm's irreverent newsletters unstuff oenological stuffed shirts. www.bonnydoonvineyard.com or 831/425-3625.
BEST TASTING ROOM
Niebaum-Coppola Estate When Francis Ford Coppola hooked his passion for winemaking to that of Captain Gustave Niebaum, founder of Inglenook (and Napa's wine industry in general), we got creativity on a grand scale--and One from the Heart Get a museum-quality look at Napa Valley winemaking and Hollywood moviemaking in the historic Inglenook chateau. Tours end in private tastings. 10-5 daily; $15 tasting fee. Winery tours 10:30, 12:30, 2:30 daily ($25), vineyard tours 11 a.m. daily ($25), 1991 State 29, Rutherford, CA, 707/968-1100.
GREEN AWARD
Benziger Family Winery What with employing birds and bees to do what they do naturally and an insectary garden to drive diversity, the Benzigers have, in Mike Benziger's words, "created an environmental safe house" for grapevines. The Sonomo clan is committed to biodynamic farming--attracting pollinators, using natural controls, and recycling water and waste. Their Tribute, a Bordeaux blend, is the first certified biodynamic wine from Napa and Sonoma Counties. www.benziger.com/tribute or 888/490-2739.
MOST INFLUENTIAL WINE PROS
Mark Chandler One judge captured the effect on us all of the Lodi-Woodbridge Winegrape Commission's executive director: "Mark's indefatigable efforts to gain Lodi [California] the recognition it deserves have opened the door for much more excellent wine to enter the market at a very competitive price point."
Andrea Immer Robinson TV, books, the Web--there's not a medium this Master Sommelier-at-large doesn't reach, with pretense-shattering advice on wine. This year Immer took on a new last name and, when she moved from New York, a new address: Napa Valley. She's one of us now.
Bogle Petite Sirah 2003 (California; $10)
Best in the under-$15 category, this great-value Petite Sirah from Clarksburg, California's longtime winegrowing and winemaking family is "Jimi Hendrix purple," as one taster put it, with terrific berry flavors and well-managed tannins (Petite Sirah tends to be big).
WINE CELEBRITY OF THE YEAR
The U.S. Supreme Court Despite the somber robes, five key Supreme Court judges really want us all to make merry. At least that's how we interpret their May decision to strike down discriminatory laws barring out-of-state wineries from shipping directly to residents in New York and Michigan. This may--ach, the legal caveat!--ease wine commerce across the nation. Here's to free trade.
UP-AND-COMING WINE REGION
Red Mountain, Washington The soil isn't red, and there's really no mountain. But this small hill of an appellation in the Yakima Valley is producing a ton of great Cabernet and Syrah. Klipsun, Hedges, Kiona, Ciel du Cheval, and Red Mountain itself are vineyard names to watch. Also look for a high-profile winery to break ground soon (Col Solare, a partnership between Chateau Ste. Michelle and Italian winemaker Piero Antinori); a wine-education tower marking the entrance to the region, and the iconic red triangle on Red Mountain labels. And don't be surprised if local wineries start blending that Cabernet and Syrah; Hedges Estate is doing it beautifully already.
Dalla Valle Cabernet Sauvignon 2001 (Oakville, CA; $100)
"Built to last," said a knowing judge. An earthy, minerally, blackberry core--with plum, chocolate, and leather--provides intrigue. Napa takes an Bordeaux with this one.
BEST PAIRING
Taylor's Automatic Refresher ahi tuna burger and Solo-Rasa dry rose Pear and green apple notes in the rose, with a wild complement of straw-berries and grapefruit, set off the seared tuna ($14). Ginger-wasabi mayo and Asian slaw spark the wine's lemony finish. Taylor's Automatic Refresher (933 Main St., St. Helena, CA, and in the Ferry Building, San Francisco, 866/328-3663; www.taylorsrefresher.com); SoloRosa 2004 dry rose ($15; www.solorosawines.com or 707/963-3887).
How we chose
To seek out the most worthy candidates, we assembled a panel of great wine minds and palates--writers, teachers, and sommeliers--to nominate, vote, and taste. For the awards going to specific wines, we held a blind tasting of the nominees here at Sunset. One vote--the Readers' Choice Award for Wine Trend of the Year--we put to members of our Sunset Wine Club (www.sunset.com/wineclub). Here are our professional judges.
Bob Bath, M.S. Wine consultant, RLB Wine Group; instructor and board member, Court of Master Sommeliers
Shayn Bjornholm, M.S. Wine director, Canlis Restaurant, Seattle
Gene Burns Host of Dining Around, KGO Radio, San Francisco
Rebecca Chapa Niebaum-Coppola Estate Ambassador, wine instructor, Wine by the Class
Kimberly Charles VP, Society of Wine Educators
Evan Goldstein, M.S. VP of public relations and education, Allied Domecq Wines USA
Paul Gregutt Wine columnist, Seattle Times; author, Northwest Wines
Karen MacNeil Director of wine studies. CIA Greystone; author, The Wine Bible; television host, Wine, Food, and Friends
Elaine Marshall Certified Wine Professional; wine-selection panel member, Sunset Wine Club
Lisa Minucci VP, Vintrust
Russ Parsons Food-and-wine columnist and former food editor, Los Angeles Times
Jamie Peha Marketing and promotions director, Washington Wine Commission
Tysan Pierce Sommelier, Heathman Hotel, Portland; instructor, International Sommelier Guild
Leslie Sbracco Author, Wine for Women; wine columnist, San Francisco Chronicle; television guest, Fine Living and the Food Network
Sara Schneider Senior food and wine editor, Sunset
David Stevens Owner, Acme Fine Wines, St. Helena, CA
Debbie Zachareas Wine director and partner, Bacar Restaurant, San Francisco