Wild west wine: Good Pinot Noir is hard to make, but two mavericks have unlocked its secrets. Want the best Pinot? Here's where to go and what to buy—in every price range
At Au Bon Climat winery on California's Central Coast, the bottling line is rattling, forklifts are zipping here and there, and a motley crew of bartenders, Aussie winemakers, and overtalented pizza-parlor employees are perched on planks over open-top fermenters.
They're performing a chore that needs doing every fall: punching down the cap--breaking up and pushing down the thick mass of skins and seeds that carbon dioxide lifts to the top when wine is fermenting--to extract flavor and color. Pigeage tool in hand, I give it a try and am mortified; I plunge, and nothing moves. When no one's looking, I surreptitiously shove a foot in, risking tennies, Diesel jeans, and all. Better, but I have no potential career in punch-downs.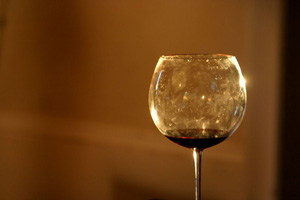 The wine they're making is Pinot Noir, and it's why I'm here in the Santa Maria Valley. In the last quarter-century, while big-name vintners were buttering their Chardonnay and turning Merlot into a darling, a handful of restless, talented wine-makers have made Burgundy's great red grape a West Coast story. I asked a couple of these winemakers if I could watch through some critical harvest days, looking for clues to the passion and the judgments that produce great bottles of this wine.
Pinot has inspired more lurid prose than a history of sunsets. It "wraps you in silk pajamas" and offers up flavors of "strawberries, blueberries, dried cherries, rose petals, green tea, licorice, black pepper, cola, vanilla, mushrooms, cedar, sweet pipe-tobacco smoke, sweaty leather ..."
Sweaty leather?
The story of the average love affair with Pinot starts with an epiphanic encounter in France, the grape's ancestral home (if it's red and it's a Burgundy, it's Pinot Noir), with, say, a plate of duck and wild mushrooms and a bottle of '71 Drouhin-Larose Gevrey-Chambertin.
[ILLUSTRATION OMITTED]
I had no such epiphany in my early, palate-forming years. I was just drinking a lot of cheap wine, and the trouble with Pinot Noir--especially cheap Pinot--is that it's so often not what it's supposed to be. Good Pinot Noir is an exquisite alternative to the pounding tannins of Cabernet Sauvignon and a best friend to both white- and red-leaning foods. But when it's bad, it's very, very bad.
Andre Tchelistcheff, mentor to a whole generation of early winemakers in the Napa Valley, is rumored to have said that "god made Cabernet Sauvignon, whereas the devil made Pinot Noir."
[ILLUSTRATION OMITTED]
With all the characteristics of a high-maintenance friend, the grape is famously hard to grow and turn into wine. Thin-skinned, sensitive to challenging conditions, and highly susceptible to mildew, Pinot needs leaf-by-leaf and berry-by-berry attention in the vineyard, the growers say. In the winery, while sturdy Cab is being pumped and racked and generally beaten into cleanliness and submission, moody, volatile Pinot requires the gentlest hand. Winemakers have to watch, watch, watch--but touch it as little as possible. There are enough caveats on the way to delicious Pinot to drive a sane man crazy.
And drive a rebel to make Pinot.
Which brings me to the "Mind Behind" Au Bon Climat, Jim Clendenen. (The title's official--it's on his card.) More descriptors have been applied to this winemaker than to Pinot Noir, if that's possible: "outspoken," "eccentric," "iconoclastic."
Aside from my punch-down adventure, following Clendenen for a day turns out to be easy. He spends the entire morning in the kitchen carved out of a corner of the winery, cooking lunch for the crew and multimanaging winemaking operations.
Lunch is a lineup of jambalaya, fresh-cooked lima beans, rotisserie chicken, corn on the cob, tomatoes with pesto, and 14 bottles of wine, including a mini vertical (three years' worth) of the Baram Mendelsohn Pinot that Clendenen makes from Russian River Valley grapes. The crew pours more hot sauce on the spicy jambalaya (Pinot can handle anything) and sips each bottle, studying the effect of their actions on the wines while in the middle of crafting a new vintage.
[ILLUSTRATION OMITTED]
[ILLUSTRATION OMITTED]
[ILLUSTRATION OMITTED]
After lunch, Clendenen sticks around to tell me how he got into this business in the first place. ("Same reason anyone does what they do--my father hated me," he deadpans.) Actually, his own French epiphany convinced him that going to law school would be a bad idea; learning how to make that amazing wine would be a good one.
Clendenen's Pinots have French values. They can be ringers for Burgundy--lean, earthy, and minerally. The most important goal is to taste of the place the wine came from, that concept of terroir that's as hard to explain as to say. A crusader for making the most balanced wine naturally possible--picking at sugar levels ([degrees] Brix) low enough to keep the resulting alcohol in the 13 percent range and give nonfruit nuances an even playing field--Clendenen is defying the critics, whose high scores (most influentially, Robert Parker's) go to big, ripe fruit-and-alcohol bombs.
"People say not to pick until the flavors are there," he argues. "But are they good flavors? There's always more flavor in alcohol and sugar, but more [of those] isn't necessarily better." They make a wine that you can't drink much of and that doesn't taste very good with food.
"Good, balanced Pinot," for Clendenen, "has a sense of richness, roundness, body, and texture that you can't find in any other grape. With age, it takes on wonderful layers of rose petals, dried flowers, tea, dried citrus peel ..."
Two weeks later, at Ponzi Vineyards in Oregon's Willamette Valley, I step up to take over one side of the sorting line, to monitor the grapes moving up the belt after their trip through the destemmer. Winemaker Luisa Ponzi checks my early progress. "You've done this before," she says. Well, I do recall seeing this before ... and suddenly she's off, moving from fermenter to fermenter, measuring temperature and sugar levels, and I'm alone, grabbing at leaves and twigs. If this vintage is more vegetal than usual, it's going to be all my fault.
[ILLUSTRATION OMITTED]
It's a minor risk compared to the one that Luisa takes every year: She's pushing the northern limits of where the coastal West can grow Pinot.
Back in the early '70s, her parents, Dick and Nancy Ponzi, were just behind David Lett of Eyrie Vineyards in planting Pinot Noir in this cool valley, where everyone said it couldn't be done. But they and Lett saw the region's similarities to Burgundy--latitude (and therefore similar hours of sun in the day), temperatures, and, scarily, the threat of rain as grapes ripen.
Despite being a daughter of wine pioneers, Luisa's Pinot epiphany was a bit delayed. She first had to realize she wasn't a perfect match for medicine: "Working in a clinic, I found out I wasn't very compassionate!" She had a greater passion for the Pinot Noir her parents were making and set out to study enology in Beaune, France, for the edge of respect that a second-generation winemaker here might need. It turns out the bigger job was earning respect there. Initially put to work cooking lunch, she had to seize a moment when no one was around and a truck needed unloading before she was taken seriously.
Ponzi's still making the most of challenges, in a region that delivers barely enough light and heat to ripen grapes. Coming off a few unusually warm years, which produced big, ripe, fruity Pinots ("not what Oregon does best," in her view), this year will "separate the men from the boys." The rains came early, threatening crops; the grapes can swell, split, and rot, or just become diluted. A few makers got the jitters and picked too early--"a California reaction," Ponzi chuckles. The payoff for those who toughed it out, though, is that the flavors developed early, before sugar levels got too high. "And '04 Ponzi is going to be fantastic," according to Ponzi.
Between Ponzi and Clendenen, in a swath of cool valleys down the coast--Anderson Valley, the Russian River Valley, and Carneros in Northern California, and Southern California's Santa Maria Valley, near Santa Rita Hills--maverick winemakers are honing their Pinot recipes. And they're discovering new best places to grow this grape: Watch Edna Valley, the Santa Lucia Highlands, and, especially, the Sonoma Coast.
They generally agree that the best Pinot comes from cool places, where the grapes don't fully ripen until the last possible day of the growing season (a risky proposition). There's also much accord that the grapes, juice, and wine should literally be handled by hand, and a gentle one at that (an expensive proposition). From there, opinions fracture.