Wine demands are building buildings - growing demand by wineries for more space for processing and storing wine
The growing demand for premium varietal wines has wineries scrambling for more space for processing and storing wine. Crush, tank storage and case and barrel storage areas are being expanded. There are also new wineries being built to keep up with growth. Other wineries are remodeling and expanding visitor facilities and putting in event centers as hospitality plays an ever more important role as a winery profit center.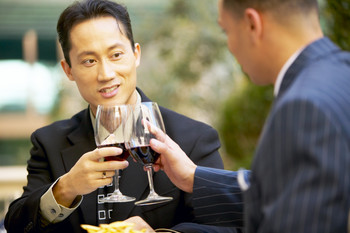 All this means architects, engineers and construction firms are staying busy. Andy Hall, a partner in the architectural firm of Hall & Bartley, said, "We are getting some new jobs, but mostly people are expanding. Sales are really driving the whole thing. Wineries are meeting the demand by getting bigger," he said.
A current client is St. Francis, where a new production and barrel storage facility is being built north of the old winery site in Sonoma Valley. A new tasting room and hospitality center is on the boards.
Hall & Bartley grew out of Keith & Associates, which did pioneering Sonoma wineries like Jordan and Chateau St. Jean in the 1970s. More than 75% of their work is winery related. Recent work includes the Marimar Estate winery in the Russian River Valley and Michel-Schlumberger in Dry Creek Valley.
Villa Toscano Winery, now under construction outside of Plymouth in Amador County, is one of several new or expanded facilities tapping into a new approach to construction, at least it's new to the wine business. The insulated concrete wall-forming system being used at Villa Toscano has been around for at least 30 years, according to Mike Dalzell of AAB Building Systems. The AAB system, called BlueMaxx was introduced to the wine industry at the Unified Symposium trade show last January in Sacramento and response has been good, according to Dalzell, who is based in Eugene, Ore. and is regional technical manager of BlueMaxx.
"It's been used in everything from residential to hog barns to abalone tanks. The wine business is new for us, but it looks like a natural," Dalzell said.
The system is based on interlocking stacking form units, consisting of two flame-resistant panels of expanded polystyrene (EPS) connected by high density plastic webs that are molded in during the manufacturing process. The forms, which are lightweight and can be cut with a handsaw, are then filled with concrete, providing a wall from 6 1/4-to-8 inches thick. The resulting wall has an insulation value of R22 and a fire resistance rating of three or four hours, depending on the thickness of the wall. Reinforcing bars can be placed where necessary to satisfy strength requirements for below or above-grade load bearing walls, beams, lintels, and shear walls. It may not be of great importance for wineries, but the forms are also good sound barriers.
The forms have an interlocking mechanism on their top and bottom edges, making stacking easy and to prevent movement of the forms while concrete is being poured. One standard form unit equals six concrete blocks.
Jerry Wright, owner of Villa Toscano, is a former real estate developer who went for the BlueMaxx system because of the speed of construction. "I liked the speed and the simplicity of putting it up," he said.
The winery will be finished in time for the crush this fall, Wright said. He is making Zinfandel, Syrah, Barbera, Sangiovese, Viognier, Cabernet Sauvignon, Cabernet franc and Chardonnay from 62 acres of vineyards. The winemaker for the startup winery is Gordon Benz.
The BlueMaxx system will also be used for the construction of a new luxury bed-and-breakfast facility at the Martin-Weyrich Winery (formerly Martin Brothers) near Paso Robles. The structure was designed by the Studio Design Group (SDG) in Paso Robles.
"It's the first time we've used the BlueMaxx system," Tim Ronda of SDG said. "We think it should work very well. The structure was designed to give the look of an Italian villa, so we wanted thick walls with deeply recessed windows. In order to achieve that we would have had to frame with layers of steel or wood, but the BlueMaxx system gives us that look." SDG also designed the new tasting and hospitality center at Martin-Weyrich.
Dalzell said that one thing that sets BlueMaxx apart as a company is the training offered to contractors. "We have a two-day training seminar that they can go through. Also, the first job they do with BlueMaxx, I'm out there making sure the process is followed carefully. We don't just leave them with a video and an instruction manual. It's important that the client have a good building experience and we make sure that happens."
Dalzell added that the BlueMaxx system is not cheaper than standard construction. "We usually come in with a competitive bid, but our real advantage is time. Speed of construction is the key. In a lot of cases, if you just look at the costs, we aren't cheaper, but we are faster, and that can be important given the construction window in many winery projects," he said.
The RASTRA System
Another precast building system based on polystyrene beads called RASTRA was recently used for a new barrel storage and tasting room at Villa Mt. Eden Winery in Napa. The system was pioneered in California by InteGrid, a Berkeley company which offers a full-service construction program for RASTRA, as well as a design service.
The system has been used in both residential and commercial construction since its introduction in 1992. It was developed in Austria in 1968 with its first commercial application in Europe in 1972.
The RASTRA system consists of 10-inch thick, 15-inch tall and 10-foot long blocks, each weighing about 150 pounds. They are made of recycled polystyrene, covered with a cement skin and molded into hollow panel forms that can be filled with steel-reinforced concrete. They can be glued together horizontally or vertically and have an insulative rating of about 36R. Panels also come in a double wide block as well as end blocks, flat panels and roof panels, which can be used for either floors or roofs.
Greg Otto, president of InteGrid, said the panels are fire-resistant for four hours at a temperature of 2,000 [degrees] F and are made of 100% recycled, post-consumer polystyrene, blended with cement. Otto said he is prepared to work with wineries at all levels, from concept and design to completion.
Sales Spur Expansion
Dick Osborne, a partner (with Mary Dooley) in the architectural firm of ozborndooli in Santa Rosa, said that booming sales are leading to many production expansion projects but he is also seeing a spurt of interest in expanded entertainment and hospitality facilities.
"We've been hired by Sebastiani to do a complete redesign of their tasting room in Sonoma. They were under mandate by the city of Sonoma to do a seismic retro. They are going for a completely new visitor's center. We've even worked with them to do a complete redesign of their tour arrangements," Osborne said. "They are also adding a banquet facility as well."
On the expansion side, ozborndooli has just finished doubling the size of Clos du Bois winery in Sonoma County, boosting capacity to 2.5 million cases. "We did the original design for the production and crush facility, then added barrel storage space and a tasting room. Now they are adding 125,000 square feet in increased production capacity."
The firm worked closely with Clos du Bois winemaker Margaret Davenport on the expansion. "We must be doing something right," he said. "Now we are designing a house for her."
He added that working with the wine-maker was important. "He or she can tell us how they make the wine, how they want the process to flow. We look to the winemaker for direction. On the other hand, we've had people walk in off the street with a watercolor sketch of a winery and say, 'This is what we want.'"
What Winemakers Want
What winemakers want varies a great deal, of course, depending on the wines made and volume. Margaret Davenport at Clos du Bois, with capacity rising to 2.5 million cases and several different wines is a far different client than Cathy Corison. Corison is building a winery which will produce only Cabernet Sauvignon at about the 3,000 case level on Highway 29 in Napa.
"We are building on a site that has been a farm for more than 100 years, Corison said. "My husband did most of the design work. We wanted a structure that would fit the site, so it really looks like an old barn."
Corison said all the winery equipment is portable and can be rolled out to the crush pad. "It was pretty simple, really. It was just a matter of backing into it, sizewise. To produce what I make, I knew what tank capacity I needed and how much barrel storage. We designed it to be at the upper limit for a 20,000 gallon winery. Until 1991, you didn't even need a permit in Napa for a winery of 20,000 gallons and under."